Caught In The Act
Here are some glimpses of life on stage and on the road
for some of JMI's artists, past and present.
Guy and Fab on the Red Carpet at the Grammys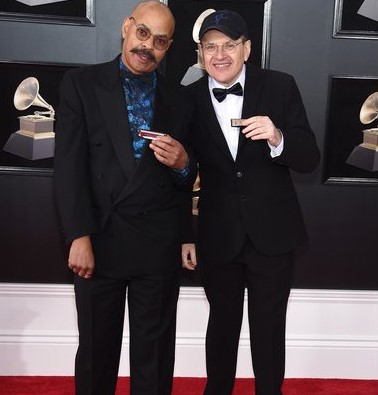 Guy Davis
and his sometimes musical partner Fabrizio Poggi were nominated for the best trad blues recording (Sonny & Brownie's Last Train) at this year's Grammy Awards. Competition was very tough, with artists like Elvin Bishop and Eric Bibb in the running, but in the end the award went to some upstart band called The Rolling Stones. No worries – as far as we are concerned, no one out there is doing more than Guy to keep traditional blues alive.
JMI's Oysterband and Moulettes took part in a workshop at the 2016 Calgary Folk Festival called, The British Are Coming! They managed to corral everyone long enough to get this great photo. That's a pile of talent.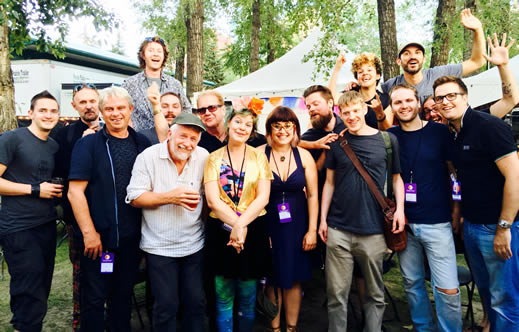 Coig's Darren McMullen and Rachel Davis recently auditioned a new vocalist
while performing at Dollywood in Tennessee.
No word yet as to whether she will be joining the band.
JMI's Shane Howard played the massive Port Fairy festival in Australia this month (March, 2016.)
Here he is with a few friends; Steve Earle, Mary Black and festival director, Jamie McKew.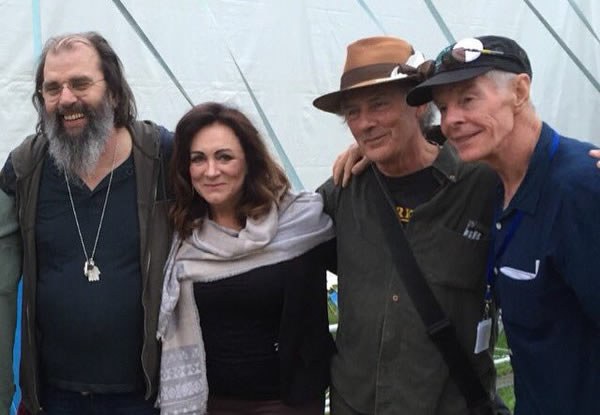 The Day Mick Came to Town

It's hard to believe that twelve years have passed since we booked a Canadian tour for former Rolling Stones guitarist Mick Taylor, but it was August of 2003. Mick was great, easy going and fun to hang out with for the four days he was here in Charlottetown, PEI. He even posed for some photos with my kids, who went a rehearsal at Myron's Cabaret, where the show would eventually take place.

In more recent times, Mick has been back on the road with his old band mates, Keith and that other Mick guy.

Live performance photos courtesy of Peter Richard of The Buzz.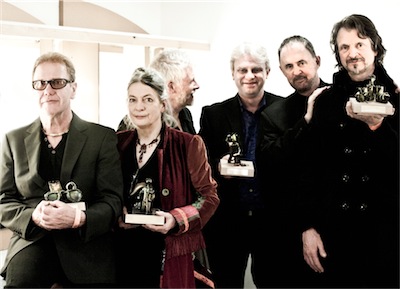 JMI attended the Womex and Globenhagen conferences in Denmark
in late 2011. Here are some photos from around the conference.
Guy Clark, Jerry Jeff Walker with "Bear" and Rodney Crowell
having a meal in the performers' tent
at the Red Ants Pants Festival
in Montana in August, 2011.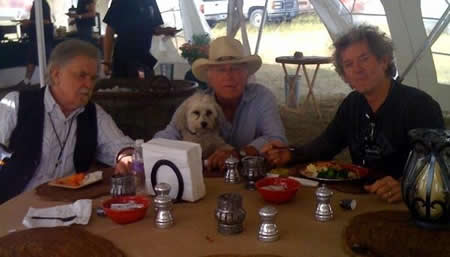 JMI at Stanfest in 2011
JMI was well represented at this year's Stan Rogers Folk Festival in Canso, Nova Scotia.
Here are a few photos from the weekend.
Canberra's National Folk Folk Festival took place in the Easter Long Weekend
and JMI was there, scouting Australian talent for package tour for 2012.


Shane Howard on stage



Road sign near Canberra


Huntsman spider on the curtains


Roos on Wilson's Promontory
James Keelaghan was back for yet another Tønder Festival
in August of 2009. Here are some photos from around the site.


Songwriters in the round, mainstage



James performing at the post festival party


JMI's Hans Theessink on stage with Arlo Guthrie
Jerry Jeff Walker was the headliner at this year's Stan Rogers Folk Festival
in Canso, Nova Scotia, and another JMI artist, Alpha Yaya Diallo
was also on hand. It was the first time Jerry Jeff had ever performed east of Quebec.


Alpha Yaya Diallo on a session stage



Ron Hynes, Rick Emmett (of Triumph fame),
Valdy and Jerry Jeff
Oysterband
performing at Folk Under The Clock
in Peterborough, Ontario, spring of 2010.
Promoter Mike Barker described Oysterband as
"one of the best live acts on the planet."
(Photos by Mike Barker)

PETE SEEGER CELEBRATES 90TH BIRTHDAY
AT MADISON SQUARE GARDENS

JMI has had the great pleasure of booking American folk icon Pete Seeger. Many friends of JMI, including Guy Davis, Bruce Cockburn, Kate & Anna McGarrigle, Tom Chapin, Martha Wainwright and Tao Rodriguez-Seeger were on hand in New York to help Mr. Seeger celebrate his 90th birthday at Madison Square Gardens. The Clearwater Concert, which featured some 50 artists, was recorded for a television special, release date TBA.


Guy Davis performs with Bruce Cockburn, Emmylou Harris,
Dar Williams and Larry Long
(Photo by Thom Wolke)


Borderlanders Performing in
Cochrane, Alberta on 2009 Tour

Photos courtesy of the Cochrane Valley Folk Club
© 2009 - Brian FitzGerald


Pete Seeger with unidentified sideman
at the inauguration of Barack Obama

The Seeger Family Shows at Hugh's Room in Toronto, July 2008

Guy Davis with Pete Seeger and Tao Rodriguez-Seeger






2007 Stan Rogers Folk Festival




2006 JMI Showcase in Charlottetown




2005 JMI Showcase in Montreal





















JMI HEADLINES:
• Twice Grammy-Nominated Blue Legend Guy Davis Touring in 2024 (November 10, 2022)
• Black Umfolosi Canadian Tour (October 29, 2022)
• JMI is Now Releasing Music to Radio World-Wide (March 30, 2021)
• JMI Now Releasing Singles Internationally (November 19, 2020)
• RIP Jerry Jeff Walker (November 2, 2020)
• Coronavirus Update (March 14, 2020)
• Full Tour – Les McKeown's Bay City Rollers' Canadian Dates (January 17, 2020)
• JMI Signs Chicago Blues Legend, Jerry Portnoy (November 22, 2019)
• Jake Morley and Braden Gates touring Alberta in November (November 15, 2019)
• Martin Simpson Touring Canada in October (September 30, 2019)
• Les McKeown's Bay City Rollers Canadian Dates Announced (June 26, 2019)
• Calan Win Best Band in BBC Wales Inaugural Folk Awards (April 25, 2019)
• Minor Empire - Sonic Colliders Concert Series in 2020 and 2021 (April 11, 2019)
• New York City Blues Icon Coming to the Maritimes (March 31, 2019)
• JMI Artists showcasing at Folk Alliance (February 11, 2019)
• Announcing Gumbo, Grits & Gravy (January 30, 2019)
• Bay City Rollers to Tour Canada in March, 2020! (January 29, 2019)
• Christmas Day on Planet Earth (December 2, 2018)
• New Signings From JMI (September 20, 2018)
• Ray Bonneville Displays His Blues & Americana Roots on New CD (September 18, 2018)
• Oysters3 Touring in October and November (September 11, 2018)
• Claire Lynch Western Tour Starting in September (September 11, 2018)
• Guy Davis touring Western Canada with Fabrizio Poggi in October (August 28, 2018)
• Electric Strawbs Final Canadian Tour set for October (August 28, 2018)
• Black Umfolosi Back to Canada this August (July 23, 2018)
• James Keelaghan's Summer Festivals (July 9, 2018)
• Guy Davis on the Road, Summer of 2018 (July 9, 2018)
• Calan to play Hugh's Room, Summerfolk (July 9, 2018)
• Martin Simpson Returns to Canada (July 2, 2018)
• Peterborough Show Rescheduled for Keelaghan-McManus Double Bill (May 1, 2018)
• James Keelaghan and Jez Lowe to Tour North America in the Fall (April 12, 2018)
• JMI Signs Folk Legend, Peggy Seeger (March 23, 2018)
• Ray Bonneville to Perform Western and Ontario Dates in March (February 20, 2018)
• Black Umfolosi to Embark on North American Tour in February (January 27, 2018)
• Australia's Shane Howard to Perform Western and Northern Dates (January 11, 2018)
See News page for more JMI news.