Headlines:
---
---
November 19, 2014
Gordie MacKeeman to Tour Quebec and Ontario
We are excited today to announce that Gordie MacKeeman & His Rhythm Boys will tour central Canada from March 31st through April 17th of 2016. The guys recently showcased at Ontario Contact and we have had a steady stream of inquiries ever since.
---
November 10, 2014
Two Quartette Christmas Shows in December
Here's where you can catch them next month:
---
October 27, 2014
Juan Martín to Tour New Show Nationally
"2 Guitarras Malagueñas" Features Chaparro de Malaga
A living legend of the instrument, Juan Martin is a celebrated virtuoso of the flamenco guitar who has been voted into the top three guitarists in the world by the US magazine, Guitar Player.
Juan Martín has now launched a new duo project with fellow flamenco virtuoso Chaparro de Málaga - Melodic and explosive, their pieces, composed or arranged by Juan Martín, evoke the visceral power of authentic flamenco in a musical dialogue between two masters of this great and esoteric art.
The program will transport you to the Spain of Málaga, Granada , Córdoba and Jerez on a journey through the diverse cultures of Andalucia; from the Byzantine chants, the Hebraic and Moorish laments, to the sounds of Argentina and Cuba returning from South America , evident in the rumba, guajiras and milonga. Juan and Chaparro also acknowledge the inspirational effect flamenco has had upon so many classical composers, and will perform arrangements of the Malagueñas of Lecuona and other classical pieces.
The tech on this show will be very simple and it is suitable for all sizes of halls.
---
October 25, 2014
Guy Davis to Tour Western Canada in April
Touring Russia as this is being written, Guy has performed in South America, Africa, Australia, Asia, Europe and America since he last set foot in western Canada, and says he is greatly looking forward to visiting old friends and traveling down well known highways.
Guy on YouTube: "That's No Way To Get Along"
Here is where he will be in the Spring of 2015:
---
October 25, 2014
Claire Lynch Wins 'Song of the Year' at 2014 IBMA Awards
[From the article by Mark Papadatos in Digital Journal
Bluegrass sensation Claire Lynch took home the award for "Song of the Year" at this year's International Bluegrass Music Association (IBMA) awards.
The 25th annual IBMA award ceremony took place in Raleigh, North Carolina, on October 2.
| | |
| --- | --- |
| | Lynch won for her song "Dear Sister," the title track of her latest studio album, which was well-received by Digital Journal. She co-wrote the tune with veteran songwriter Louisa Branscomb (who was responsible for writing Dale Ann Bradley and Alison Krauss' collaboration "I'll Take Love.") "Dear Sister" is an inspirational song about human faith, and brevity in the face of adversity. Most impressive about "Dear Sister" is that it was based on letters that were written by Branscomb's ancestors who fought in the Civil War. |
In addition, Lynch (Digital Journal article naming her as one of the Top-10 Angelic Voices of Our Time) also won the IBMA award for "Recorded Event of the Year" for "Wild Montana Skies," her collaboration with acoustic bluegrass group Special Consensus and dobro virtuoso Rob Ickes. This song was produced by Alison Brown, banjo player and co-founder of the independent record label, Compass Records.
Throughout her career, she has won the IBMA "Female Vocalist of the Year" honor three times, in 1997, 2010 and 2013; moreover, she has been nominated for two Grammy awards.
For more information on bluegrass star Claire Lynch, visit her official website.
---
Nathan Rogers' Ontario Dates This Month
Here's where he will be later this month, into November:
---
Jon Brooks to Release New CD
and Tour Western Canada
Jon will be touring western Canada in November, and here is where you can catch him.
---
September 27, 2014
James Keelaghan and Còig
Multiple CFMA Nominees
JMI congratulates James Keelaghan and Còig on their multiple nominations for the upcoming Canadian Folk Music Awards, which will be held in Ottawa November 27th through 29th.
Both James and Coig are currently booking up tours both at home in Canada and internationally. When James is not on the road performing, he is busy running the long-standing Owen Sound Summerfolk folk festival.
---
September 17, 2014
Bellowhead Plays Hyde Park in London
From BBC Radio 2


Crowd-pleasing Folk evangelists
Jon Boden and John Spiers' 11-strong party outfit
already have plenty of Radio 2 form.
With bags of charisma, inspired arrangements, and twenty different instruments including bouzoukis, kazoos, melodeons and bagpipes all making up the Bellowhead sound, it's not hard to imagine why they are frequently hailed one of the UK's finest live acts.
Also on the bill were Lionel Ritchie, Lennie Kravitz and the BBC Concert Orchestra.
Currently celebrating their tenth anniversary, their return to Hyde Park is set to be one of the highlights of a fantastic year of touring for Bellowhead, and a fantastic day in Hyde Park for Radio 2.

See video and listen to MP3s here.
---
September 2, 2014
Còig Makes the Cover of Penguin Eggs
We already have offers coming in for festivals for summer of 2015, so we expect this incredible new Celtic supergroup to be very busy in the coming years.
See what all the fuss is about here (YouTube).
---
August 5, 2014
JMI Welcomes The Henry Girls
JMI is very excited to welcome Ireland's The Henry Girls to our roster.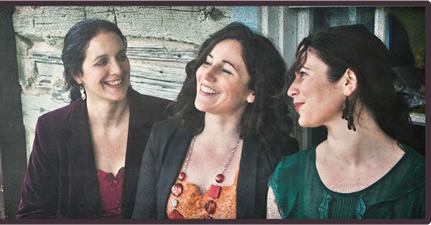 The Henry Girls are an Irish folk and roots music group consisting of three sisters; Karen, Lorna and Joleen McLaughlin. All three have studied music and are multi-instrumentalists featuring fiddle, ukulele, banjo, guitar, harp, mandolin, piano, and accordion. Their trademark sound is one of stunning three part harmonies on material which is a mix of traditional Irish folk music and Americana. In addition to their own recordings, they have contributed backup vocals to Mary Black's album Stories from the Steeples and have also collaborated with Session Americana, Dónal Lunny, Moya Brennan, Jennifer Kimball, and The Fox Hunt.
JMI will tour The Henry Girls across Canada in the summer of 2015.
---
July 24, 2014
Claire Lynch Adds Quebec and Ontario Dates
Nashville's Claire Lynch has added a week of dates for Central Canada onto her current western tour. She is now available for performances in Quebec & Ontario from October 23rd through November 1st, 2015.

Claire has two Grammy nominations and is the current IBMA Female Vocalist of the Year. Ontario presenters of bluegrass and roots performers will want to take advantage of this opportunity to book one of the most respected American bluegrass artists.
Dear Sister - New Civil War Song from Claire Lynch (YouTube)
---
July 17, 2014
JMI Signs Ireland's Goitse
JMI has been putting a fresh coat of paint on our roster, and as such, we are delighted to announce that we have signed a traditional Irish group we've had our eyes on for years, the wonderful Goitse.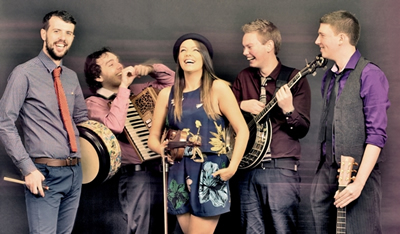 Forged in the white-hot creative crucible of Limerick University's Irish World Academy of Music and Dance, this quintet has graduated with a musical maturity worthy of the greatest. They have made a name for themselves as one of the most sought after bands amongst connoisseurs of Irish Traditional music across the globe, with their performances gaining notoriety on four continents. Having won feverish critical plaudits for their Dónal Lunny-produced second album Transformed, the band has skyrocketed to the forefront of the traditional Irish music scene.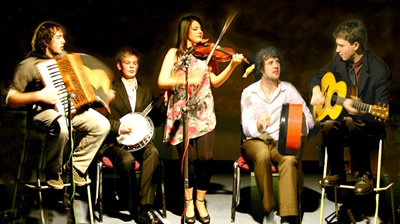 The gripping rhythm section sets a breath taking pace for the music while the sweet, charismatic voice of Áine Mc Geeney draws audiences into the music in a way very few performers can achieve. When not singing, Áine's energetic style of fiddle playing is complimented hugely by multi-award-winning banjo and mandolin virtuoso James Harvey. His ability to transcend genres, combined with his unparalleled technical ability is a joy to behold. Bridging the gap between melody and accompaniment is the piano and piano accordionist, Tadhg Ó Meachair. The Dublin native is renowned for his unique approach to bass work and accompaniment, while also having picked up national awards for his melody playing.
Goitse will tour western Canada in March of 2015 and Canadians festivals in the same year.
---
July 17, 2014
JMI Signs Maddy Prior and Steeleye Span
JMI has take great pride over the years in working with legendary acts such as Fairport Convention, Pete Seeger and Jerry Jeff Walker. We very excited today to announce that we have signed England's legendary Maddy Prior & Steeleye Span.
Steeleye Span has been one of the most influential names in British roots music. Pioneers of folk-rock, Steeleye Span changed the face of folk music forever, taking it out of small clubs and into the world of gold records and international tours. Members have come and gone over the years, but Steeleye has always remained at the forefront of the genre they helped to define, and 45 years later the band is an institution in British music.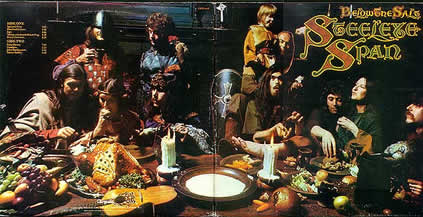 Steeleye Span formed in 1969, with the vision of playing folk music in a contemporary, electric band format. Taking their name from the song Horkstow Grange, their debut recording Hark! The Village Wait is a pioneering album that set out the blueprint for folk-rock.
Further line-up changes ensued with Ashley Hutchings leaving to form The Albion Band, followed shortly afterwards by Martin Carthy. Steeleye recruited Rick Kemp on bass, Bob Johnson on guitar and Nigel Pegrum as the band's first drummer. With a more rock-oriented approach, it was this line-up that enjoyed the biggest commercial success, with the acapella Latin carol Gaudete achieving a Christmas chart entry in 1973 and a No 5 hit in 1975 with All Around My Hat produced by Mike Batt.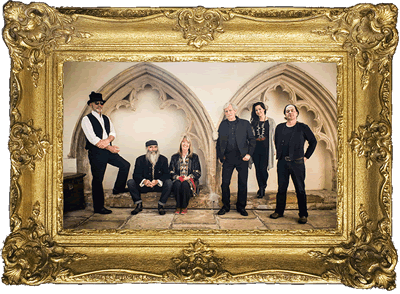 Steeleye Span will tour Canada with Maddy Prior for two weeks in the summer of 2015, with inquiries coming in before the official announcement was even made. These will be very special dates and there are no plans to tour Canada beyond next summer.
---
July 11, 2014
JMI Signs Everything Fitz
JMI is very pleased to announce an exclusive Canadian signing with Ontario's Everything Fitz.
Everything Fitz is a family band featuring the high-energy fiddling and percussive step dancing of four of Canada's finest young musicians. With roots in the Canadian old-time fiddle tradition and Ottawa Valley step dancing, their unique stage show combines a variety of musical styles - everything from traditional jigs and reels, bluegrass, jazz and swing standards, Celtic, gospel as well as novelty numbers and choreographed dance routines.
| | |
| --- | --- |
| Julie (24), Kerry (23), and Tom (20), are all champion fiddlers and provide intricate 3-part fiddle harmonies as well as solo improvisations on fiddle, mandolin, and guitar. Additional instrumentation includes Pat (25) on percussion along with parents Pam and Paddy providing accompaniment on piano and bass guitar. An audience favourite is their award-winning group step dancing. | |
| | Promo video on YouTube |
---
July 11, 2014
Black Umfolosi to Tour Canada in 2014
Here's where you can catch the guys this fall*
*More dates may be added to this tour.
---
July 3, 2014
JMI and Your Privacy
---
July 3, 2014
James Keelaghan Summer Dates
---
June 25, 2014
Quarrymen Member Rod Davis to Tour
Around John Lennon's 75th Birthday
Rod was raised in Woolton on the outskirts of Liverpool and was a close friend of John Lennon's from a very early age when they attended Sunday school together. In 1956 he and John formed the legendary skiffle group, The Quarrymen with two other friends. Rod played banjo in the group for two years until he was replaced by Paul McCartney. At one time, there were three Beatles in The Quarrymen when George Harrison joined.
---
June 17, 2014
Alpha Yaya Diallo
Solo Maritime Dates Announced
African guitarist and songwriter Alpha Yaya Diallo will tour the Maritime provinces solo in October of 2014.
While Alpha will be touring with larger bands on the festival and concert circuit in the coming months, including his massive West African Summit, this will be a chance for fans of his guitar work to see him shine.
---
June 12, 2014
Ray Bonneville to Tour Quebec
and Ontario in 2015
Listen to MP3s from Easy Gone here.
Ray will hit the road in Quebec and Ontario from October 15-25, 2015.
---
June 12, 2014
Sylvia Tyson to Tour Central Canada
She then established a distinguished solo career, and is also known today as one of the Canadian vocal divas within the award winning group "Quartette". She has graced our country's recordings for four decades, writing classic songs and making music that has made this Chatham, Ontario native an international star, and a Canadian treasure. As one half of the Folk Country duo "Ian & Sylvia", she recorded 13 albums and helped change what the world was listening to. The album most revered today: "Great Speckled Bird" is now acknowledged as the beginning of a Country Rock sound that led to an evolution, still at the core of Country radio playlists.

---
June 11, 2014
Bellowhead on Star Studded Bill
in Hyde Park in September
Lennie Kravitz, Lionel Ritchie, among performers
If you're going to be in London in September, plan to join BBC Radio 2 for a festival in a day as they celebrate the best of the station's music with one special day of live performances from a starry array of top UK and international artists.
BBC has just announced two more artists for Radio 2 Live In Hyde Park to perform alongside Lionel Richie with the BBC Concert Orchestra in what will be an exclusive UK performance for the star.

Joining Lionel Richie will be the amazing James Blunt and The Dutch jazz-star who smashed Michael Jackson's sales records in her homeland, Caro Emerald.
Lenny Kravitz will also perform a set on the night, marking his first UK gig for three years. Plus, Irish vocalist and musician Imelda May will be taking to the stage.
Also appearing will be the superb Beverley Knight, US sisters The Pierces and the best folk live experience you'll ever experience from the incomparable Bellowhead.
Bellowhead live: New York Girls [Official] (YouTube)
Jools Holland and his band will also be performing with special guests Sandie Shaw and Ruby Turner and the event will be hosted by Chris Evans with other Radio 2 presenters.
Event Details:
Sunday 11 September 2011 - Hyde Park, London
Tickets £32.50 plus booking fees (under-3s free)
---
June 10, 2014
Alpha Yaya Diallo 2014 Festival Dates
---
June 10, 2014
Guy Davis Summer Dates
American bluesman Guy Davis divides his summers mostly between Europe, the UK and America. In 2014, he will also be playing several Canadian festivals right across Canada.

Guy's current release, Jube Dance, spent 10 weeks in the number 1 position on the international RMR blues charts this winter and continues to be widely played around the world.

Some Cold, Rainy Day (YouTube)
Here's where he will be playing in July and August:
---
June 10, 2014
Quartette Summer Dates
Because Sylvia Tyson, Cindy Church, Gwen Swick and Caitlin Hanford all have busy solo careers and other projects, it can be hard to get them together for dates in the summer.
---
June 6, 2014
Vishtèn Will Tour Prairies in October
The globetrotting Vishtèn will undertake a rare western Canada tour this coming fall.
The past year has seen them tour Australia & America, and we've lost count of how many times they have been to Europe.

Here's where they will be in October:

Vishtèn's Pastelle LeBlanc

Oct 02
Athabasca
AB
Nancy Appleby Theatre
Oct 03
Edmonton
AB
Festival Place 
Oct 04
Okotoks
AB
Rotary Performing Arts Centre
Oct 06
Grande Prairie
AB
Grand Prairie Live Theatre
Oct 08
Prince Albert
SK
E.A. Rawlinson Centre
Oct 09
Saskatoon
SK
The Bassment
Oct 10
Calgary
AB
Dalhousie Community Centre
Oct 11
Rocky Mountain
House
AB
Grandview Stage Resort
La Fougue des Fées (YouTube)
---
June 6, 2014
Ray Bonneville Heading West This Fall
Ray Bonneville will be busy in Canada this October. His Maritime tour takes place early in the month, and after a few days off, he will head to western Canada for dates in Manitoba, Saskatchewan, Alberta and BC.
Here is a list of Ray's western gigs for this fall:
---
June 6, 2014
Martin Simpson Heading West in November
British Folk singer and guitar hero Martin Simpson will tour western Canada in November of 2014.
There is no-one who has more successfully combined the diverse elements of British, Afro-American and old-timey music than Simpson. His 15 years living in the US were well spent. In addition his own songwriting has produced some real gems, from the truck-stop epic, "Love Never Dies" to the profoundly moving "Never Any Good" and "One Day". Martin has been nominated an astounding 26 times in the twelve years of the BBC Radio 2 Folk Awards - more than any other performer - with 9 consecutive years as nominee for Musician of The Year, which he has won twice.
Here's where you can catch him this fall:
---
June 3, 2014
JMI Introduces
Speaker's Corner
We are very excited to announce that JMI has added a Speaker's Corner to our roster of folk and roots musicians. While there will be a focus on people with a strong connection to the music world, we will also be adding speakers from diverse backgrounds. Our aim will be to make available speakers who have unique and fascinating stories to tell.
Please allow us to introduce you to our first five signings.
ROD DAVIS was, from a very early age, a close personal friend of John Lennon, and eventually became the banjo player in Lennon's first band, The Quarrymen in 1956. "I lived in Woolton and first met John Lennon at St. Peter's Sunday School when we were very small boys. I lived near (drummer) Colin Hanton and we all used to play street football together." Davis was eventually replaced by a young upstart named Paul McCartney, and was there on the famous day in 1957 when John met Paul.
Rod Davis will be available to tour Canada around the 75th birthday of John Lennon in the fall of 2015.
•
JOE BOYD is a true pop music pioneer. After graduating from Harvard in 1964, he staged some of the first UK tours for blues giants such as Muddy Waters, and was at Newport in 1965 where he supervised Bob Dylan's electric debut. He has produced the likes of Eric Clapton, Pink Floyd & Fairport Convention, and as head of music for Warner Brothers Films, organized the scoring of Deliverance and A Clockwork Orange and made the feature-length documentary Jimi Hendrix. In 2006, Joe published his memoir "White Bicycles: Making Music in the Sixties" which sold 75,000 copies world wide.
•
BERNIE FINKELSTEIN is both a giant and a pioneer of the Canadian music industry and the founder of True North Records. When only 22, he was invited by the legendary Albert Grossman (Bob Dlyan's manger) to collaborate on managing The Paupers. He also managed artists such as Bruce Cockburn, Murray McLauchlan and Dan Hill and rubbed shoulders with the likes of Beatles manager Brian Epstein, Neil Young, Leonard Cohen and The Grateful Dead. Bernie was the Chairman of MUCHFACT for 26 years, an organization he co-founded with Moses Znaimer in 1984. He was inducted into the Canadian Music Industry Hall of Fame in 2003. Mr. Finkelstein also received The Order of Canada in 2007.
•
BILL GERMAN Author and Rolling Stones insider Bill German discusses his ups and downs with "the greatest rock 'n' roll band in the world." His first book, Under Their Thumb, chronicles his friendship with the Stones (forged when he was still a teenager) and how he became the band's official historian for two decades. He traveled the world with them, stayed at their homes and witnessed their private jam sessions, decadent parties and vicious in-fights. Bill is currently working on a second book about The Rolling Stones.
•
STEPHEN MAHER is one of Canada's most respected political journalists as well as a novelist (Deadline), and is currently a national columnist at Postmedia Network Inc. He has received many prestigious awards including the 2012 Canadian Association of Journalists Award, the 2013 Canadian Hillman Prize, the 2012 National Newspaper Award and the 2012 Michener Award for detailed and sustained reporting that exposed the use of "robocalls" to mislead and harass voters during the 2011 federal election campaign. Maher is an Ottawa insider with many insights on Stephen Harper's tenure as Canada's prime minister.
•
These speakers will be available for theatre tours, corporate work, conferences, and in the case of those connected to the music industry, festivals, where they can give workshops and talks about their experiences.
---
June 3, 2014
Ray Bonneville to Tour Maritimes
in October
Ray will blaze through the Maritimes, take a couple days off and then head out west for more dates. Stay tuned for news on the western dates.
Here's where you can catch Ray in eastern Canada in October of 2014.
---
May 27, 2014
The Strawbs' Dave Cousins Set to Release Biography
in September
'Exorcising Ghosts', written by Strawbs singer and songwriter, Dave Cousins, tells an extraordinary story from the revivalist folk scene of the 1960s, through chart-topping albums and singles, to stadium rock shows of the 1970s. Cousins spares no punches in the untold story of his discovery of Sandy Denny in a folk club in Earls Court and their time together in Denmark. He invited the unknown Rick Wakeman to join Strawbs, and within six months they moved from playing in folk clubs to headlining the Albert Hall.
The subsequent incarnation of Strawbs found pop stardom with the notorious hit, 'Part Of The Union', which ended in an acrimonious bloodbath in Los Angeles. Undeterred, Dave Cousins recast Strawbs as a prog-rock band, playing stadium shows across the USA and Canada.
In 1980, Dave Cousins turned down the chance to sign to Elton John's record label and entered his secret life, the nascent world of commercial radio. Like a roller coaster, Dave Cousins' life has had its ups and downs, but what a ride!
---
May 26, 2014
Còig Set to Release New CD
---
May 23, 2014
Ed Sheeran and Eagles Bassist
Big Fans of Cara Dillon
Dillon has also recently attracted the attention of pop superstar, Ed Sheeran, who yesterday tweeted to his nearly 10 million followers, "Listening to @caradillonsings new album and it's sublime, heavily recommend to anyone." Within less than 24 hours it had been retweeted more than 1000 times and favourited over 4000 times.
Dillon continues to sell out major concert venues internationally. On a recent trip to China, where she sold out all four of the 2500 seat venues months in advance, and was treated like a superstar. She told the Belfast Telegraph, "There had to be crowd control guys during the concerts and one night I had to run to the toilet with a hoodie over my head, so I wouldn't be mobbed. It was like a parallel universe and we had to pinch ourselves to make sure it was actually happening."
You can listen to cuts from A Thousand Hearts here.
JMI plans to tour Cara Dillon on the 2015 festival circuit in Canada.
---
May 16, 2014
JMI Signs Legendary De Danann
JMI is very proud to announce that we have signed Ireland's legendary, multi-platinum selling De Danann.
Once described as 'the Rolling Stones of Irish Traditional Music', De Danann, returned to the festival stage in 2009 with a new album 'Wonderwaltz' and trips to Finland, Switzerland, Denmark, Italy and the USA. The band have found themselves once again in demand by promoters in Europe and North America. Founding member Alec Finn is joined by Eleanor Shanley (vocals), Derek Hickey (accordion), Brian McGrath (banjo/piano), Ronan O'Flaherty (fiddle) and Neill Lyons (bodhrán).

De Danann were formed in 1975 in Galway and became one of the most influential bands in traditional Irish music before going their separate ways in 2003. The group released their debut album 'De Danann' in 1975 and in total have recorded 14 albums including 'Anthem', 'Star Spangled Molly' and 'A Jacket of Batteries' and achieved chart success, with many of the albums reaching gold and platinum status.
De Danann will be touring the Canadian festival circuit in the summer of 2015.
---
February 10, 2014
Gordie MacKeeman Headed for Newfoundland & Labrador
---
April 21, 2014
JMI Signs Cape Breton's Còig
"Five acclaimed, award winning solo musicians in their own right,
in one explosive 'coming together'...
Collectively they are a Cape Breton trad triumph..."
- Davie Gardner, the Shetland Times, UK
---
April 21, 2014
Ray Bonneville Releases
Easy Gone on Red House
On Easy Gone, Bonneville delivers 10 reasons why longevity pays off. On each song, his taut guitar work shimmers like the scales on coiled rattler, menacing and confident. His voice carries the rich, natural timbre of time and his harmonica rhythms add an extra dollop of grit to his streetwise sound. Produced by Bonneville and Justin Douglas, Easy Gone wears the faded work clothes of a man who knew when he "said I do to a highway," as he sings in "Who Do Call the Shots," that it wasn't going to be an easy marriage. But he also knew divorce was not an option, and affirms his vows in soulful lyrics that balance thoughtful observation, impassioned emotion and the restless soul of a wanderer.
---
April 14, 2014
World Music Duo CanadAfrica
to Tour Central Canada Next March
AFRICAN ROOTS MEETS CANADIAN ROOTS With an original sound that fuses world with folk music, CanadAfrica creates a place for the complex interlocking rhythms of Africa with the soulful and rich melodies of the blues. Mike Stevens and Okaidja Afroso, two passionate musicians from very different backgrounds, bring their talents together with their debut album, "Where is the One?" This innovative record reveals how beautifully the sound of the harmonica complements Ghanaian melodies.
Please let us know if you are interested in discussing a date for this innovative project.
---
April 4, 2014
Gordie MacKeeman Wins ECMA
for Pickin 'n Clickin
---
April 2, 2014
Gordie MacKeeman and Vishtèn
to Showcase This Weekend
Two of Atlantic Canada's finest live groups will be showcasing on opposite ends of the country this weekend.
If you are attending either of these conferences, we hope you can make one of the showcases - they will not disappoint
---
March 15, 2014
Guy Davis to Tour Ontario in October
When it comes to Canada, a place where Guy Davis has claimed he would like to "hang up his pajamas," there's no stopping him. Guy has performed hundreds of shows across the country, performing at theatres and festivals in ten provinces and two territories (He is asking why we have no gigs so far in Nunavut).

See That My Grave is Kept Clean on YouTube.
Here's where you can catch Guy in the fall of 2014.
Stay tuned - our western tour for Guy in April of 2015 is nearly completed.
---
March 15, 2014
Acoustic Strawbs Tour Central Canada in the Fall
- Western Extension Possible
Booking The Strawbs is always fun. The 1970s progressive folk-rock legends are as busy as they have ever been, and Dave Cousins is still as excited about his group as a 17 year-old kid with a garage band. It is this unbridled enthusiasm that has kept the group performing before near fanatical fans for some 40-plus years.
We have had people come from as far away as Iraq, England and California to catch Canadians dates with the guys.
| | |
| --- | --- |
| The Strawbs will be back for a tour of central Canada in the fall. Festival Place wanted to have them back, so we have tacked on an Edmonton date at the end of the run and are currently exploring whether more western dates might be feasible. | |
Dave tells us that this might be the last Canadian tour, so don't miss the chance to catch this incredible and iconic group.
Here's where they will be in October:
---
March 11, 2014
Gordie MacKeeman to Tour Central Canada
in the Fall of 2015
This is the kind of demand there is for the guys in western Canada;
To keep up with demand out west, we are already booking another tour for them there in 2015.
---
March 7, 2014
Guy Davis to Tour the Maritimes
in April of 2014
American Bluesman Guy Davis is busier at 60 than he has ever been, touring constantly in Russia, Asia, Europe, Australia, Africa and South America. And of course, he remains a popular fixture in Canada and America.

Guy's current release, Juba Dance, recently spent a total of 10 weeks at the #1 position on the world-wide RMR blues charts.
Guy Davis performs "Goin' Down Slow" (YouTube)
In April of this year, Guy will mount his first full Maritime tour in 4 or 5 years. Here's where to catch him.
The PEI show will be opened by a very young, up and coming Charlottetown blues/rock band named Ripped Paper.
---
February 19, 2014
Remembering Pete Seeger
CBC called me the day after Pete's death and asked if I would do an interview on what it was like to meet and work with him, and talk about his legacy. You can listen to that interview here.
---
February 10, 2014
Claire Lynch Tour of Eastern Canada
---
January 8, 2014
Caladh Nua to Tour Western Canada in March of 2014
This time around the band has stops scheduled in Saskatchewan, Alberta and B.C.
Here's where they'll be playing:
---
December 7, 2013
Mike Stevens and Okaidja Afroso Release CanadAfrica
Always the innovator, JMI's harmonica virtuoso, Mike Stevens is releasing a world music recording on Borealis.

For samples of the music, please visit Borealis here.
Mike Stevens – harmonica and vocal.
Okaidja Afroso – guitar, cajon, gyil (wooden xylophone), gourd and vocal.
---
December 3, 2013
JMI Signs Nashville's Claire Lynch
Claire Lynch has long been recognized as a creative force in acoustic music and at the forefront of women who have expanded the Bluegrass genre. She has two Grammy nominations and countless other awards among her official accolades. She is the reigning Female Vocalist of the Year for the International Bluegrass Music Association (IBMA) and a 2012 recipient of the United States Artists Walker Fellowship. Frequent and enthusiastic standing ovations at her performances with her tight, virtuosic band demonstrate her ability to captivate widely diverse audiences. Critics laud her songwriting as an undeniable gift, and her enthralling "hillbilly angel" voice has landed her spots on recordings from Linda Ronstadt to Ralph Stanley in between.
Claire is currently signed to Compass Records.
While we will be focusing on the summer of 2015 with Claire, she still has a few open spots for the summer of 2014.
---
November 21, 2013
Quartette Releases Rocks and Roses
Canadian folk supergroup Quartette is about to release their first recording since 2007's Down at the Fair. Rocks and Roses is now available for purchase from Outside Music.
Cindy Church, Caitlin Hanford, Gwen Swick and Sylvia Tyson have outdone themselves in this collection of original tunes celebrating their twentieth anniversary as a group. From the gorgeous R&B lament, "Sweet Agony," to the Appalachian hints of "Arkansas Travelogue," and the bittersweet "I'll Keep You in My Heart" and jazzy "Crybaby," these four extraordinary songwriters have circled the songwriting wagon to create a lovely work of art, produced by Danny Greenspoon. Bonus retrospective disc included.
---
November 19, 2013
New Western Tour Announced for James Keelaghan
We are always excited here at JMI to announce a western tour for Calgary's native son, James Keelaghan.
James has been incredibly busy with international touring. The last time he was through western Canada was in November of 2012, so this will mark more than two years since his last foray into home turf. The tour will run Feburary 5 -15, 2015.
Video of James Live:
Message to the Future
Ottawa Folk Festival
Cold Missouri Waters
Central Ohio Folk Festival
If you are interested in booking a date for this tour, we would be pleased to discuss the details with you.
---
October 21, 2013
Jon Brooks to Tour Western Canada
in November of 2014
Jon has toured widely in Canada, the USA and Australia, and has many songwriting awards.
Jon on YouTube:
Please let us know if you are interested in having Jon as part of your 2014/15 season and we will be glad to discuss a date with you.
---
October 6, 2013
New Retrospective Release from James Keelaghan
History - 25 years of Recording and Touring
You can steal a listen to some of the music on the new Borealis release here.
---
October 2, 2013
Ray Bonneville Touring Quebec and Ontario in November
Ray on YouTube: Goin' By Feel.
See more Ray Bonneville videos here.
---
September 5, 2013
Nathan Rogers Maritime Tour

Here's where you can catch him in October:
* Nathan's Celtic Colours dates between October 12th and 14th are with his band, Dry Bones.
---
September 5, 2013
Quartette Christmas Tour
The ladies will be touring the Christmas show in Ontario in December, including their annual Toronto show at Hugh's Room. Here's where you can catch them.
---
September 5, 2013
James Keelaghan in September
September tends to be a slow month in Canada for folk singers, but James Keelaghan has a little string of dates coming up later this month before heading off for some US dates with his friend, Jez Lowe.

The many faces of James Keelaghan
If you live in Ontario, you have three chances to catch James this month. Here's where:
You can find out about all of James' upcoming dates here.
---
July 26, 2013
JMI Signs Folk Superstar, Cara Dillon
We are very excited to announce that JMI is now the exclusive Canadian agency for Northern Ireland's incomparable Cara Dillon. Dillon is a folk superstar who's awards are too numerous to mention, but can be viewed here.
| | |
| --- | --- |
| In January 2012 Cara recorded the vocals on a song called "Come Dream A Dream" which forms the closing sequence of the nighttime spectacular show, Disney Dreams!, which was designed to celebrate the 20th anniversary of Disneyland Paris. In the summer of 2012 she performed two concerts with the Ulster Orchestra. The first was to celebrate the 150th anniversary of the Ulster Hall at an event called the Great Northern Songbook where "Hill Of Thieves" was voted by BBC listeners as one of the "Top 10" original songs to come out of Northern Ireland. The second was a concert where the Ulster Orchestra joined Cara and her band in the Grand Opera House in Belfast. | |
What Cara Dillon is really about is great live performances delivered with simplicity and passion.
Cara Dillon & Solas - She Moved Through the Fair (YouTube)
Cara Dillon with the Ulster Orchestra - Craigie Hill (YouTube)
Look for Cara to return to Canada in the summer of 2014.
---
July 24, 2013
Alpha Yaya Diallo to Tour
Newfoundland and Maritimes Solo
This is a great opportunity to host a first class world music artist with a minimal of tech requirements. Perfect for any size of venue.
---
July 23, 2013
West African Summit to Tour
Quebec and Ontario in 2015
We did a trial run with the show last year and the feedback was tremendous. You can see some highlights from the show on this promotional video taken from one of the actual concerts.
---
July 22, 2013
Gordie MacKeeman & His Rhythm Boys
CD Launch in Charlottetown
Gordie MacKeeman and His Rhythm Boys are pleased to announce the release of their sophomore album, Pickin' n Clickin', on July 28, 2013 at The Old Triangle, 89 University Avenue in Charlottetown.

Pickin' n Clickin' was recorded at the Sound Mail and partly at The Nest. It was produced by Nathan Wiley and mixed by Dale Murray.
The new CD includes a mix of traditionally inspired songs as well as several written by the group.
---
June 17, 2013
Juno Award Winning Roots Performer Ray Bonneville
to Tour Atlantic Canada
Ray also has a very busy summer lined up, performing festivals on both sides of the border. See his schedule here.
Always a crowd pleaser, Ray will be back next fall, to tour Newfoundland and the Maritimes from October 2 through 12, 2014. This will be a solo tour, so the tech and hospitality requirements will be minimal. It will also mark two years since Ray's last tour of the region, so the timing is perfect.
Please let us know if you would like to book a date with Ray on this Eastern tour.
---
---
June 15, 2013
Guy Davis to Tour Western Canada in 2015
At this time, we are just waiting for an announcement on an upcoming recording, to be released very shortly.
Guy has always been a great favourite in Canada and this tour is long overdue. Please let us know if you are interested in discussing a date.
---
June 14, 2013
Busy Summer for Gordie MacKeeman
The guys combine dance, musicianship and harmonies in what is arguably the best live show coming out of eastern Canada these days. See for yourself here (YouTube).
Here is where you can catch them over the summer:
After the UK dates the guys have two weeks off before starting the first leg of their western tour.
---
June 4, 2013
Ray Bonneville Summer Dates
Canadians roots and blues singer-songwriter Ray Bonneville is busier than ever, having been on the road for 49 weeks last year with tours of the US, Australia, Canada, America and the UK.
Groovemaster, Ray Bonneville (YouTube)
The summer of 2013 will see him jumping back and forth across the 49th parallel. Here is where you can catch him in July and August on the north side of the border.
---
June 3, 2013
Jon Brooks to Tour Central Canada
in March 2014
We recently announced that Jon Brooks would be touring Atlantic Canada. We are also looking forward to touring Jon in Quebec and Ontario. The dates will run from March 21 through 30th inclusive, 2014.
---
May 31, 2013
Australian Richard Perso's Summer Tour
After seeing Richard Perso perform at the National Festival in Canberra, we offered him a signing on the spot.
With more than 100 Australian festivals under his belt, the 21 year old Perso is ready to turn some heads in Canada. A brilliant slide guitarist and a fan of John Lee Hooker, Richard trades in a rack harmonica for a rack didgeridoo. On stage, he performs solo, with three giant didgeridoos and four guitars, including lap steel.
You'll be able to catch Richard from Nova Scotia to British Columbia over July and August - here's where:
---
May 29, 2013
The Danes Are Coming!
Habadekuk in Concert (YouTube)
Habadekuk Performs... (YouTube)
Here is where you can catch the guys in July and August of this year.
---
May 27, 2013
Boreal Recording Artist Jon Brooks
to Tour Atlantic Canada in April, 2014
JMI is very pleased to announce that multi-award winning recording artist Jon Brooks will tour Atlantic Canada from April 23 through May 1, 2014.
Upon his return from a 1997 trek throughout war ruined Bosnia-Herzegovina, Jon quit writing songs and performing, claiming, "I'm at least a 1000 books and emotions shy of earning the right to stand behind a microphone." 8 years later – at the suggestion of one of his Canadian literary heroes, Austin Clarke – Jon wiped the dust off his Taylor Jumbo 615.
Since then, Brooks has turned a lot of heads in Canada, the US and Australia. His songs are peopled by characters from the fringes of society and delivered with raw emotion.
Jon Brooks' Mercy (YouTube)
If you are interested in a date with Jon Brooks next April, please contact us and we will be happy to discuss specifics with you.
HIGHLIGHTS AND AWARDS
2010 Winner Earth Day International Songwriting Competition
Winner: 2010 Kerrville New Folk
2010′s People To Watch – The Toronto Sta
Nominated: 2009 Canadian Folk Music Award – 'English Songwriter of the Year'
Winner: 2009 US National Public Radio's Mountain Stage New Song Canadian Region
Winner: 2008 The Mac Beattie Porcupine Award (for musicians who are proud to be identifiably Canadian).
Nominated: 2007 Canadian Folk Music Award – 'English Songwriter of the Year'
Winner: Ontario Council of Folk Festivals 2007 'Songs From The Heart'
Winner: International Green Man Review's '2006 Songwriter Of The Year'

---
May 23, 2013
Martin Simpson Coming
to Atlantic Canada in July
One of the folk world's greatest guitar players is coming to Atlantic Canada in July. There is no doubt that after 35 years as a professional musician Martin is, right now, better than ever. Widely acknowledged as one of the finest acoustic and slide guitar players in the world, his interpretations of traditional songs are masterpieces of storytelling. His solo shows are intense, eclectic, spellbinding and deeply moving.
Martin will also tour Western Canada in the fall of 2014.
---
April 25, 2013
JMI Signs Jon Brooks
At JMI, we go out of our way to find great singer-songwriters and have worked with some of the very best. In that tradition, we are very pleased to announce a Canadian exclusive signing with Jon Brooks.
Upon his return from a 1997 trek throughout war ruined Bosnia-Herzegovina, Jon quit writing songs and performing, claiming, "I'm at least a 1000 books and emotions shy of earning the right to stand behind a microphone." 8 years later – at the suggestion of one of his Canadian literary heroes, Austin Clarke – Jon wiped the dust off his Taylor Jumbo 615.
Though Jon's music is filled with grey and morally ambiguous characters living on the outskirts of approval, his mandate is unequivocal: "I'm not interested in 'happy songs' – I've chosen to write healing songs and, for that reason, I'm obliged to reveal a wound or two now and then. I'm even less interested in writing unhappy songs: I want to write hopeful songs, inspiring songs and I expect I owe today's listener some hopeful argument – some legitimate reason – as to why we should believe our present world could be improved, or healed. The highest aim of song is to invoke empathy – to offer that rare sight of ourselves in others. In this sense, the folk singer is simply trying to politicize love, hence, my contention that today's songwriter should be a lobbyist for compassion to be our principle representative in government office."
In 2006 he released NO MEAN CITY, a portrait of Toronto homelessness vis a vis Toronto history and architecture. Inspired by Eric Arthur's book, 'No Mean City', these 13 songs are a weighty and conceptual exposition of the modern urban soul's homelessness and moral fatigue. 2007 afforded Jon further acclaim with the release of OURS AND THE SHEPHERDS, a CD of Canadian war stories inspired by James Loney, Senator Romeo Dallaire, Sgt. Tommy Prince, and John McRae among others. The collection earned Brooks Songwriter of the Year nomination at the 2007 Canadian Folk Music Awards. Penguin Eggs deemed it "a thoroughly wonderful and truly important addition to the canon of Canadian folk music." OURS AND THE SHEPHERDS is now among the collections of The Canadian War Museum and The John McRae Society.
Jon is also a published essayist with Guernica Editions' BARRY CALLAGHAN: ESSAYS ON HIS WORKS (2007) with contributions by Margaret Atwood, William Kennedy, Joyce Carol Oates, and others.
His latest CD, MOTH NOR RUST , looks inward to all that neither moth nor rust can touch: love, hope, trust, memory, inspiration, justice, and faith. MOTH NOR RUST earned Jon his second Canadian Folk Music Award nomination for Songwriter of the Year and its lyrics were published by Canada's esteemed literary quarterly, Exile Editions.
Whether about the times we live in, its past or its future promise, Brooks' songs are underscored throughout by his gently weather-beaten voice, the singular beautiful sound of hand on guitar, and his uncanny ability to press his ear against the heartbeat and the soul of the times we live in – transforming, inspiring and uplifting us as we bear witness.
---
April 8, 2013
Alpha Yaya Diallo to Perform
Maritimes and BC Dates This Month
Here is where you can see Alpha in April;
---
March 23, 2013
JMI at Winnipeg and Stanfest in 2013
Closer to home, we have two outstanding Canadian artists also locked in. Nathan Rogers will perform a very special and unique show at the Winnipeg Folk Festival this year, something he will not be doing at any other festival. To help Winnipeg celebrate their 40th, he will be performing a full concert of his famous father's work. The late Stan Rogers gave some of his most memorable concerts at Winnipeg Folk Fest, and as Nathan has chosen Winnipeg as his home, this seemed to be a great fit. Nathan will do this concert with a full band, just as Stan would have.

Nathan Sings Stan - The Rogers Legacy Continues
We can also announce that five JMI artists will be performing for the first time at the Stan Rogers Folk Festival in Canso, Nova Scotia in early July. Martin Simpson was not planning on touring Canada next summer, but his schedule lined up with Stanfest, so he is looking forward to his debut performance in Canso, as well as one in St. John's just prior to the festival. A little closer to home, Gordie MacKeeman and his Rhythm Boys are very much looking forward to shaking it up in Canso in July. Australia's Richard Perso will also perform his first Canadian festival ever in Canso.

The incomparable Martin Simpson
We will have many other festival announcements in the weeks and months ahead, and complete tours with dates and cities will be posted here over the spring. Stay tuned for more.
---
March 22, 2013
Gordie MacKeeman and His Rhythm Boys
Set to Invade Alberta and Saskatchewan
At the time this was posted, the guys also had offers for additional dates, which will be posted as they are confirmed. For now, here is where they will be on the prairies over the next year.
And in 2014, the guys also have the following dates


---
March 11, 2013
Vishtèn Takes ECMA Award for
Francophone Recording of the Year
Here is a great example of what makes Vishtèn such a great traditional group:
La Fougue des Fées (YouTube)
You can view all of Vishtèn's European dates here.
---
March 6, 2013
JMI Welcomes Black Umfolosi and Guy Davis
Back to Our Roster
We are very pleased and excited to announce today that we are welcoming some old friends back into our musical family.
Watch "Summertime" live (YouTube)
Their first tour will be the festival circuit in July of 2014, with the possibility of moving into August if demands warrants. We will also be doing a cross country theatre tour in November, 2014, commencing in Atlantic Canada November 1st, and moving right across the country to the west coast. Part of the beauty of of this group for presenters is that not only are they absolutely outstanding in concert, but the shows could not possibly be simpler to produce. Their tech requirements consist of five mics - period.
•
Guy is one of the busiest bluesmen on the planet, touring North America, the UK, Asia, Europe, South America and Australia relentlessly, and the reason is very simple - there isn't a finer proponent of acoustic blues to be found anywhere. We have just signed an exclusive contract for Canada with Guy, and are planning on touring all regions of the country over the next two years.
Our first run will be Atlantic Canada from April 2- 12, 2014, and we can't wait to have him back in the region. Guy has played just about every venue in all three Maritime provinces, and has also been to Newfoundland. His second Canadian tour is slotted for Quebec and Ontario from October 2 -12, 2014. These are both short tours and we expect demand to be brisk, as Guy has not been in these markets for some time.
A western tour is also being planned for spring of 2015, with details to follow.
---
March 6, 2013
Ray Bonneville to Tour Western Canada
in October of 2014
Watch "Roll It Down" (YouTube)
Ray has less and less time to tour in Canada these days, but we have secured 10 days in October of next year. He will be available for solo dates from Manitoba to BC from 16th through 26th, inclusive, 2014. We have no hesitation in calling Ray one of the best roots songwriters working in Canada today.
---
March 5, 2013
Gordie MacKeeman and His Rhythm Boys
Showcasing at ECMAs This Weekend
---
February 20, 2013
Catch Australia's Richard Perso
Showcasing at Folk Alliance This Weekend
---
February 20, 2013
Gordie MacKeeman & His Rhythm Boys Showcase Spots
at Folk Alliance This Weekend
---
February 16, 2013
Bellowhead's "Broadside"
Album of the Year at BBC 2 Folk Awards
| | |
| --- | --- |
| Bellowhead was back on the podium last week to accept the award for Album of the Year at the BBC Radio 2 Folk Awards. The group, which has been together for nine years and continues to sell out large concert halls across the UK and Europe, including The Royal Albert Hall, took the honour for their current CD, Broadside. This award is all the sweeter as it was chosen by the public. | |
John Spiers accepted the award on behalf of the band last Wednesday at the Royal Concert Hall in Glasgow, Scotland. JMI sends our congratulations to all the members of Bellowhead.
---